<>< Making Customers Happy Since 1999! ><>
Cars for Sale ~ Car Inspections ~ Escrow Services ~ Transportation ~ Free Advertising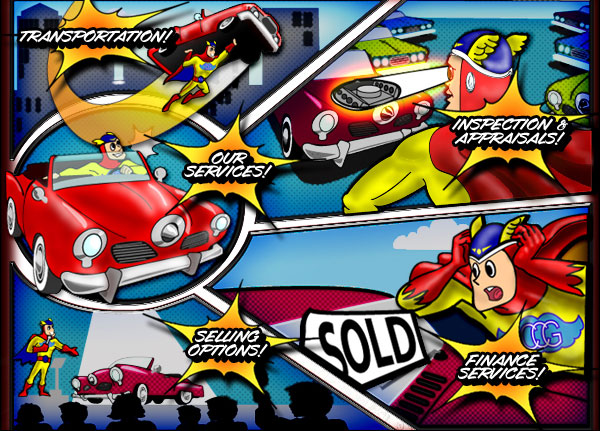 You May Click on the Above Image for any Service

"Hello shiny metal fans! I'm the Classic Car Guy! As a modest Super Hero of the Planet Cruisemania and Champion for the preservation of the Classic Car Universe, I personally Welcome you to ClassicCarGuy.Com!"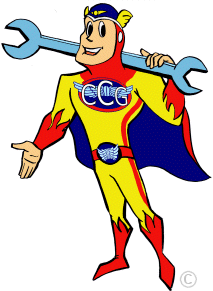 Welcome To Classic Car Guy!

Here is Some Helpful Information on How To Use Our Site to Find What you Want:

We feature around 200-300 cars for sale at any given time. You can view a list of all of our inventory on this page by using the arrow to the right of the main menu above. Or, see the Inventory Page to view all of our cars 20 at a time.

To search for a certain Model (Mustang Camaro, etc) use our Search Database window to the above left of this page to look for certain years or models. For instance, type in "Camaro" and hit Go to see all Camaros on the site. Or type in "1950" to see all vehicles on the site that were produced in that year. Caution: Use only one word or one date. You will get mixed results if you dont. For Instance, a search for "Ford Mustang" will pull up all Fords and all Mustangs too.

If you don't find the right car on this site, then complete our FREE locator service form by clicking on "Locate a Car" button. We can help you find the car you are looking for!

If you have found a car on this site that you would consider purchasing, but have concerns about the condition of the car, please see our Appraisal Page. We perform top-notch Pre-Purchase Inspections and can have a qualified independant inspector check the car out for you. We do not always get to inspect the cars we advertise, and we do not want any of our buyers to have any surprises.

The Transportation Page will be helpful to you too, and includes a table for estimating shipping costs. We've added a computerized Quick Quote system too (It works most of the time, but needs constant greasing).




A Bit About Us...



ClassicCarGuy.com began as a company that only performed pre-purchase inspections for Buyers and expanded into advertising privately-owned automobiles as we grew. We offer free advertising to Sellers, and we offer Sellers an unbeatable advertising package as well. We have established long-term relationships with excellent transporters and later added escrow services for Buyers. ClassicCarGuy.com has the priviledge in claiming that We specialize in helping buyers with their long-distance purchases.

We don't want our any of our buyers to get cheated or scammed and We understand the obstacles facing buyers who find cars on the Internet or in magazines that are located many miles away. Our services make it easy. We can have the car inspected, help buyers with the purchase (by providing an exchange service), and transport the car too - all this in one place - ClassicCarGuy.com.



More On Advertising With Us...

Classic Car Guy is a Super Hero when it comes to Advertising! Add your car to our expanding universe of classic automobiles for FREE by going to the Add Car Page now! OR...if you want to really expose your car to the Universe, try our multi-web site advertising package (includes eBay, Auto Trader, AutaBuy and all the big sites and many smaller ones) for the low price of just $150.00. Click on the Consignment page for more info!

Advertising with Classic Car Guy gives you these out-of-this-world features:
You get space - an unlimited amount of photos with each ad and unlimited amount of text in each ad. Space is good !


Your car will be featured on this website where buyers can get financing, arrange an inspection on the car, get the car transported, etc. .


Tracking: You can track the hits (customer interest) of your car at any time! You will witness yourself the interest we bring to a car featured on ClassicCarGuy.com




A Personal Word From Classic Car Guy...


"From the bottom of my Nitrous-burning heart I would like to thank each of you for visiting my site. Have fun Crusin' it space cowboys! And be sure to tell a friend about us. Visit again soon because I'm always wrenching on it!"
--The Classic Car Guy